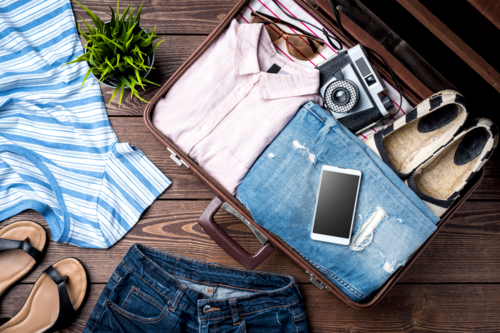 You just finished unloading the final box from the moving truck, and now you're officially moved in to your new home! You go to take a shower to wash off the day, only to realize you don't have a shower curtain. After spending a full day moving into a new home, the last thing you are going to want to do is dig through all of your unopened boxes to find an outfit or a charger (or even a shower curtain). The next time you're moving, create a 'first night box' so that your essentials aren't hidden at the bottom of another box. Here is a list of what you should pack:
1. ToiletriesYou may have thought about keeping your tooth brush in an easy-to-find place when packing, but you'll need more toiletry essentials to get through the first night or two. Be sure to pack toilet paper, towels, a shower curtain + rod, shower items, and a first aid kit.
 2. ClothesUnless you are an extremely organized packer, finding an outfit for the next few days isn't going to be easy if you have to dig through multiple boxes.  Pack 2-3 days worth of clothes and pajamas.
3. ElectronicsDon't forget your chargers. Make sure you've got your phone, laptop, and any other charger you may need for your devices during the first few days at home. Pack any necessary cords and cables needed if you plan to unbox your television the first night  Be sure to pack a flashlight as well just in case!
4. Air Mattress/BeddingIf your bed hasn't made it to your new room yet, you will want to make sure you have an air mattress in your first night box. Check to ensure the air pump is packed as well! If your furniture is unloaded, you will sleep better if the bedding you love is easily accessible on that first night in your new home.  
5. Eating Utensils & Kitchen Items Avoid the mess of dirty dishes your first night home and pack disposable eating utensils.  You may also want to pack wipes to quickly clean up any messes made at mealtime and a garbage bag to be able to dispose of any waste quickly. Cleaning supplies typically aren't the first thing on our minds when moving into a new home, so be sure to pack these items so that you aren't scrambling to the store after a long day when you're ready to clean up after a meal.